---
World's Leading Expert in LED Monitors
BenQ – the world's leading LED monitor brand – has provided the winning solution for your business solutions via 4E's--Erogonimcs, Economic, Eco-friendly and Enjoyment.
Ergonomic
Just the Comfort Office Workers Need for Greater Productivity and Efficiency at Work
For office workers in this digital world, working on computers all day long have already become a part of their daily routine. However, "routine" doesn't equal to "normal" or "healthy". Prolonged periods of computer use at poorly designed workstations result in burning eyes, neck and shoulder stiffness and back pains – conditions which may lead to serious health consequences as well as cause work quality, productivity and efficiency to suffer. Designed with computer ergonomics in mind, the BenQ BL2400PT keeps office workers and their work performances healthy and strong. The result? Completely satisfied clients – with you comfortably ahead of the competition.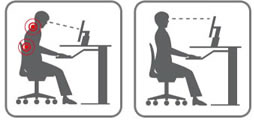 Ultra-Flexible Height Adjustment System (HAS)
Tailor the height, tilt, pivot, stroke and swivel adjustment of each monitor to perfectly fit individual users! BenQ's ultra-flexible height adjustment system (HAS) offers an extensive range of monitor adjustments to keep office workers of all shapes and sizes comfortable and fit for every work situation.

Automatic Eye-Protect Sensor
An overly bright or dim monitor screen strains the eyes. This feature automatically detects the ambient light levels and sets the monitor's brightness to the most optimal level of clarity and comfort all through the day – effectively reducing eye fatigue, so work efficiency and accuracy can be on the rise!
Monitor screen automatically brightens in bright ambient environment
Monitor screen automatically dim(down) in dark ambient environment
Anti-Glare Display
A glare panel – whether it's caused by a direct or reflected light source – makes it a challenge for office workers to see clearly without straining their eyes. The BenQ BL2201PT LED monitors feature an anti-glare, matt-finish display to keep distracting reflections to a minimum, so office workers can work through their day-to-day tasks with well-improved efficiency – squint-free!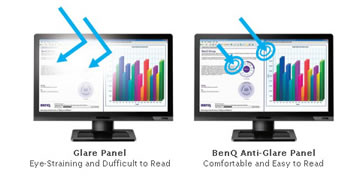 Around-the-Clock Smart Reminder
People blink 5-10 times less per minute than what their eyes need while staring into the computer screen – resulting in eye fatigue and dryness after a long period of time. This is why a smart reminder system is implemented to discretely remind office workers to take a break at preset intervals of 20, 40, 60 and 100 minutes to keep them at top notch physical condition. This system is created based on the expert-recommended "20/20/20 Rule" to help office workers relax and regain focus.
The 20/20/20 Rule
For every 20 minutes, look at a spot 20 feet away and blink 20 times. It is also recommended that office workers stare into a distraction-free, color neutral wall for better result.
Economic
The Cost-Down Game Plan to Keep Your Clients Ahead of Their Competitors
A penny saved is a penny earned! With the day-to-day operating expenses of utilities, repairs and maintenance impacting your clients' business revenue, a thorough cost-down game plan like what BenQ's BL2201PT has to offer would certainly make the top of their list on what to look for in business solutions!
Energy Efficient and Money Saving
The BenQ BL2400PT is built with the latest LED backlight technology to cut down power consumption by 33% a year – saving your clients a fortune on energy costs. LED backlighting is also known for its highly durable and stable performance on brightness and color presentation – which means an extended usable lifespan for your business solutions.
Eco Sensor to Lower Energy Costs
On average, office workers spend about 20% of their working time away from their computers – often without turning them off. This feature automatically switches the monitor to Eco Mode when users step away from their desks and switches back to normal mode when users return – effectively saving considerable energy and money, which would otherwise reflect on to their monthly electricity bills.

*Use 1000W/hr = EU 0.235 = US 1.221
Built-In Speakers
BenQ has added built-in speakers to the BL2201PT to boost the appeal of your business solutions! Not having to buy separate sound systems means your customers get to save up more money!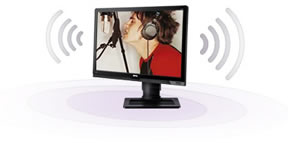 Seamless DP Connectivity
The BL2201PT are built to give you seamless DP connectivity that fits perfectly with just about any input device – without rendering your customers' existing equipment obsolete.
Eco-Friendly
Green Technologies Certified to Keep the Earth and Your Business Solutions Lookin' Great!
Help your customers build their business, as well as their reputation, with the BenQ BL2201PT! Globally recognized in the green community, these monitors are built to keep your customers and the Earth lookin' great!
LED Backlight for a Cleaner World
With global warming worsening, it's even more important to help businesses save energy and avoid pollution. The BenQ BL2201PT adopts mercury-free, power-saving LED backlight panel to reduce harmful CO2 emissions while increasing brightness and display lifespan – keeping precious water sources free of pollution during the manufacturing and recycling process.
Reduced Energy Waste Impact on Earth
For most businesses, keeping track of electricity usage can be quite a task – especially when it comes to reminding office workers to turn off their computers after a long day at work. Thanks to the eco sensor, your customers get to reduce energy waste and CO2 emission effortlessly – saving the planet bit by bit!
Recyclable Plastic Materials
Built to successfully minimize waste and environmentally harmful pollution, the BenQ BL2201PT monitors are coating-free and 100% recyclable – with 65% of the monitor frame made of recycled plastics.
Greener Packaging
The BenQ BL2400PT comes with an extra green packaging for easier recycling. All materials used for packaging are EPS-free – with all PVC or foamed plastics replaced with recyclable paper cushion. Moreover, recycled paper is used for 80% packing to save forests.
Enjoyable
The Secret to Business Success: Enjoyable Work Environment Makes Happy Workers!
Enjoyment matters! Only a highly enjoyable work environment can breed happy productive office workers! Built to offer glorious Full HD visual performance on large, vibrant LED displays, the BL2201PT offers you the kind of enjoyable edge that only BenQ can provide!
LED Ultra Brilliant Colors
LED-backlit panels are always ready for show! No more waiting for screens to warm up to reach full brightness and deliver outstanding color presentation!
Full HD 16:9 Visual Perfection
It's the latest high definition video and image formats! With Full HD 1080p resolution and 16:9 aspect ratio, office workers get to enjoy a new clarity with richer, more realistic colors in even the subtlest details.
24"W Large and Comfortable Display
Working with a tiny monitor screen can be quite uncomfortable! The BL2400PT brings you 24" widescreen formats, making images, documents and videos a joy to behold!