---
Never Miss a Line Again
Accurate Color Gamut that brings your imagination to life, A Large Screen that extends your design space, High Resolution to view the smallest details, Ergonomic Features that ease your eye and neck strain... Result, A monitor that meets all your CAD/CAM needs!

Large Screen Resolution
With a 2560x1440 WQHD resolution and extra working space mean less scrolls for zooming in and out. Start using BenQ CAD/CAM Monitor now and boost your work efficiency!

CAD/CAM Mode for Precision design
The unique CAD/CAM Mode is specially designed to enhance work efficiency and reducing eye fatigue for all CAD/CAM users. By making the color contrast higher, every displayed line will be perfectly distinguished. With BenQ CAD/ CAM Monitors, you will never miss a line again in your designed work.
Animation Mode
To clearly distinguish detailed textures in the darkest areas, BenQ developed Animation Mode that enhances brightness in dark areas without overexposing bright areas. With ten levels of brightness, the Animation Mode provides the comfort and freedom that every designer will welcome with open arms.
Great Color monitor with Wide-viewing Angle Panel & 100% sRGB
With the BenQ's advanced 100% sRGB screen technology, every color is delivered with the finest precision in every detail and at every possible viewing angle. Get and share a professional viewing experience.

Rotate screen and Desktop Partition with Display Pilot Software
Auto Pivot detects the rotation of the monitor and dynamically rotates displayed content automatically. All windows will be equally portioned and displayed on the screen when clicking on the Desktop Partition icon, which allows you to compare all design works with just, one simple click. Moreover, you can preset different picture modes to each frequently used software. Display Pilot will automatically switch to your preferred picture mode in different user scenarios.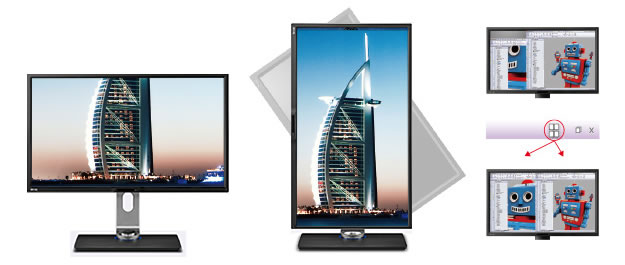 OSD Controller - Viewing Adjustments in an Instant
Unique control device docked to the stand of every BL3200PT monitor remotely accesses the OSD menu. Three pre-set hot-keys allow quick switching between 1. sRGB Mode, 2. CAD/CAM Mode, 3. Low Blue Light Mode, or let you assign your own set of display modes providing ultimate user flexibility.
Sleek Ergo-design
Large screen monitors usually take a noticeable amount of space on the working desk. BL 3200 is designed to save as much of your workspace as possible. Compact stand architecture enables the screen to sit at the very edge of the desk and maximize your working space and comfort.
I/O Ports on the Side

I/O ports on the side of the screen effortlessly bring all your content together in one convenient package. 2x USB 3.0 and SD card reader provide super-speed data transmissions.
Slim Bezel for Dual monitor setup
The slim bezel makes the monitor look lighter and larger. In a multi-display setup with two or more units, thin bezels are less intrusive and effectively expand your work-space.
Ergo Monitor – HAS
An extensive range of monitor adjustments – height, tilt, pivot, stroke and swivel – tailor your own unique working station that is best suited for your height and viewing habits with a maximum 150mm distance between the screen bottom and the base.

Flicker-free
The Flicker-free technology eliminates flickering at all brightness levels and effectively reducing eye fatigue. Conventional LCD screens flicks 200 times per second. Your eyes may not see flickers, but they can certainly feel them. Free your eyes from flickers by switch to CAD/ CAM Monitors and let your eyes do less work while you are working on CAD/ CAM designs.

Low Blue Light Mode

Every Monitor produces a strain of blue spectrum light that is one of the critical causes of eye damage, eye strain, headaches and sleeping disorders. BenQ's unique Low Blue Light technology is designed to deal with the everyday problem of blue light exposure and allows a healthier time spent in front of your computer. Switch to one of the four preset Low Blue Light Modes from OSD hot key (Multimedia – 30% reduction, Web-surfing – 50% reduction, Office – 60% reduction, Reading – 70% reduction), and reward your eyes without having to lose the visual enjoyment. Corporate users are frequently required to read documents from a monitor. Reading Mode adjusts the screen brightness, contrast ratio and sharpness to make your eyes feel as easy as reading directly from hard copies without wasting any paper.
Eye Protect Sensor
Ambient light levels are automatically detected to help adjust the monitor brightness throughout the day for optimized clarity and viewing comfort.
• Monitor screen automatically brightens in brightly-lit or bright ambient light settings.
• Monitor screen automatically dims in dimly-lit or dark ambient light settings.
The Smart Reminder feature reminds you to take a break from staring into the computer screen at preset intervals of 20, 40, 60 and 100 minutes.


Designed For Business Professionals

Build with an LED backlight panel, the stylish BL2405HT comes with an ultra-high dynamic contrast ratio of 1,200,000:1, 16:9 100% dot-to-dot image quality, and BenQ's exclusive Flicker-free technology and Low Blue Light Mode to offer you the best viewing quality at all times.

A Win-Win Decision for Mutual Benefits

The BenQ BL Series is designed with computer ergonomics in mind to add comfort and flexibility to your everyday work – boosting productivity and efficiency at the same time!

Designed for business environments, the BenQ BL Series of professional monitors is an essential part of your solutions to minimize total cost of ownership and maximize staff productivity – a win-win decision for the benefits of all.


Flicker-free Backlight for Visual Pleasure

The Flicker-free technology eliminates flickering at all brightness levels and effectively reducing eye fatigue. Conventional LCD screens flicks 200 times per second. Your eyes may not see flickers, but can certainly feel them. Free your eyes from flickers by switching to Flicker-free Monitors and let your eyes do less work.
Anti-Glare Display

A glare panel – whether it's caused by a direct or reflected light source – makes it a challenge for office workers to see clearly without straining their eyes. The BenQ BL2405HT VA LED monitors feature an anti-glare, matt-finish display to keep distracting reflections to a minimum, so office workers can work through their day-to-day tasks with well-improved efficiency – squint-free!