---
Everyday Enjoyment for Leisure and Business
The GW2270HM monitor with Eye-Care design brings viewing pleasure to work and play with exquisite details on striking visual performance.
key features
3000:1 High Contrast Ratio

HDMI input

Built-in speakers

Flicker-free Technology

Low Blue Light Mode
Celebrating Minimalism at Its Finest

Everyday Enjoyment for Leisure and Business

A perfect embodiment of The Bauhaus' "less is more" minimalism design philosophy, the GW2270HM is a delightful complement to almost any modern space. Every aspect of its form and feature is reduced to unify simplicity and functionality into pure aesthetics. On top of it all, users get to enjoy the sheerest visual pleasure and optimal eye comfort with BenQ's exclusive eye-caring technology. The GW2270HM is not only a celebration of minimalist lifestyle and modern sleekness but also the gateway to everyday enjoyment for leisure and business.
Designed Simply for the Ultimate Sophistication
"Simplicity is the ultimate sophistication." - Leonardo da Vinci
Exquisitely refined to complement your home and office, every detail of the GW2270HM exemplifies the highest craftsmanship. The T-shaped base surface in the front is brushed with hairline treatment and adorned by a rectangular-shaped glossy black embellishment. The housing styled in black is fashioned with delicate patterns in the back to subtly catch the eye. With this classic minimalistic wonder, the GW2270HM is everything you seek for the ultimate sophistication.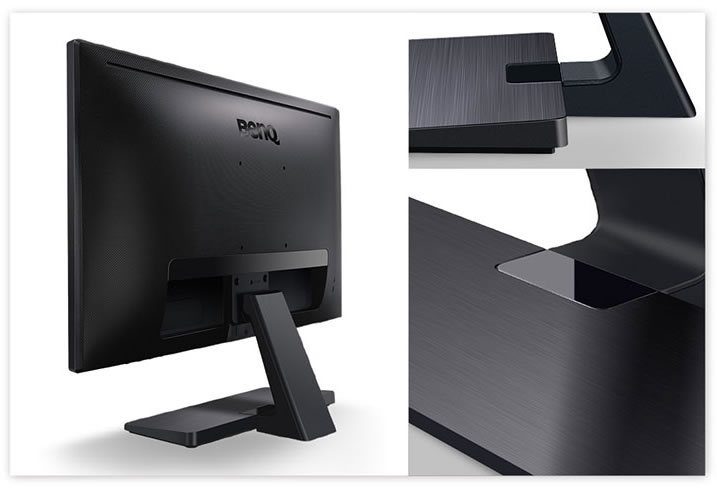 TÜV Rheinland Certification

GW2270HM Eye-care monitor has been certified by TÜV Rheinland for Flicker-free and low blue light, the world's leading provider of technical, safety and certification services, as truly friendly to the human eye.
BenQ, the first brand of Eye-care monitor in the world, as a permanent addition to monitor product line, stressing on commitment to safeguard eye vision and to always act first on offering the most comfortable and enjoyable viewing experience.

Flicker-free Backlight for Visual Pleasure

The Flicker-free Technology eliminates flickering at all brightness levels and reduces eye fatigue effectively. Conventional LCD screens flicker at the rate of 200 times per second. Your eyes may not see the flickers but they can certainly feel them. So relieve your eyes from the uncomfortable flickering effect by switching to a BenQ Flicker-free monitor.
Flicker-Free

Stable feedback technology prevents the harmful effects of flickering that strain the eyes.
Low Blue Light

Unique BenQ Low Blue Light Technology is designed to filter out harmful blue light, effectively diminishing eye fatigue and irritation.
3000:1 Native Contrast Ratio for Color Depth and Definition
An ultra-high native contrast of 3000:1, which is three times of that of general panels, adds astonishing color depth and definition to darkened, complex images with the greatest subtlety and clarity. With a native contrast ratio this high, you can expect an infinite dynamic contrast ratio that far exceeds your expectations.

8-bit Display
With the ability to render 16.7 million color shades simultaneously, you can expect true color performance, silky transitions and impeccable image quality.

178°/178° Wide-Viewing Angles

VA panels bring truly authentic colors and ultra sharp details from left, right, above and below to your eyes with a wide-viewing angle of 178°/178°. Viewing, as you know it, will never be the same.
HDMI Multimedia Interface
The latest HDMI high-speed multimedia interface* makes these monitors incredibly convenient to use - now you can enjoy digital entertainment effortlessly even with additional multimedia equipment in the future.

Win 10 Compatible
The GW2270HM has passed Windows 10 certification and is fully compatible with Windows 10 color systems. Plug in the GW2270HM monitor to your computer, and Windows 10 will recognize it instantly, making setup and connection effortless.